Community Involvement

The School District of Philadelphia held its Back to School Extravaganza on August 5, 2011, and Elliott-Lewis was there to distribute book bags to participating parents and students.   Elliott-Lewis student interns, Paul Callahan, Adira Brown and Curtis Henderson helped Community Outreach Director Steve Jones distribute 700 of the red and gray book bags with the Elliott-Lewis logo during the day-long held for students of all ages at South Philadelphia High School on South Broad Street.
---
On June 16, 2011, Elliott-Lewis's Community Outreach Program purchased and distributed 250 upright fans to assist disabled, elderly and residents with special needs in the Parkside area of Philadelphia. Local PA State Representatives Louise Williams Bishop and Vanessa Lowery Brown obtained requests for the fans and issued vouchers for their pick up at a location provided in the parking lot of the ShopRite at 1575 N. 52nd Street. Staff members from Representatives Bishop and Brown offices, as well as staffers from the offices of Mayor Michael Nutter and Philadelphia Councilman Curtis Jones, and volunteers from the Philadelphia Alliance Against Violence, Parkside Civic Association and Wynnefield Residents Association assisted Elliott-Lewis personnel Steve Jones, Fran McDonald and Brian Cornell to distribute the fans.
---
Giving back to the community is a key part of Elliott-Lewis' credo as evidenced by the dedicated community involvement of its president and its own Community Outreach Program.
The Community Outreach Program, a cooperative effort between Elliott-Lewis and Sautter Crane, is dedicated to assisting Philadelphia's youth, disabled and elderly. Steve Jones, Community Outreach Program Director explains "we want to be a resource for people who need help finding a way to help themselves or their organization."
Internships with the company and summer job programs developed in conjunction with other Philadelphia employers provide opportunities for youth to get a head start on their careers. Elliott-Lewis was honored by the City of Philadelphia as a Champion of the WorkReady Philadelphia program.
This summer, Elliott-Lewis will be providing fans to the homes of needy families in Philadelphia.
Elliott-Lewis stands ready to find the expertise required to establish similar programs. "We are seeking a way to make a difference in the City. According to Jones, "We are seeking a way to make a difference in the City."
---
During the Holiday season, the Elliott-Lewis family remembers those who are protecting us abroad. Last year the Company collected and sent 25 boxes of snacks, treats and toiletries to service men and women stations in Iraq and Afghanistan.
For the first time, one of the Company's own was a recipient of the Christmas goodwill. Dave Zielenski, Project Manager at A.A. Duckett, is currently stationed in Kabul Afghanistan where is is working with NATO and a variety of government and civilian organizations.
Elliott-Lewis received thank you notes with photos like the one below from some who received the gifts, and a framed flag and certificate of appreciation from Captain Zielenski in his position as Commander of the Combined Security Transition Command in Afghanastan, The flag and certificate are now proudly displayed in the lobby of the Company's Corporate Office.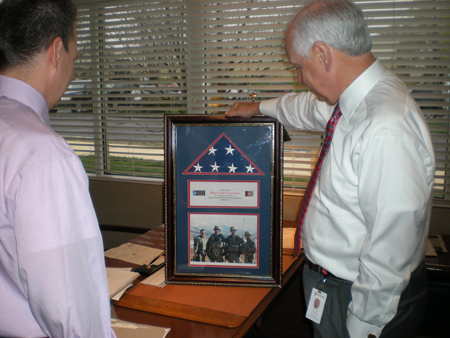 President Bill Sautter and COO Jim Pizzi admire the framed flag and certificate of appreciation they received from Captain Zielenski
---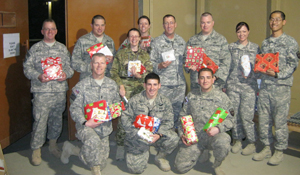 Dear Mr.  Sautter and Mr. Franks,
Please  accept my sincere thank you for the two boxes that arrived yesterday.   Supplies and goodies are depleted from Christmas.  A Lt. Col I work with,  mentioned yesterday, how shipments from home appear to be over with….gift  boxes, etc…..so when your boxes arrived….well, HUGE morale booster. Thank you so much.
Just curious, did you get my name from Operation Support Troop?  Since I did not know the source of the gifts, our  security folks opened the boxes outside well away from our building, as a  precaution.  Happy to see nothing but awesome stuff in side.  I left  work last night at 11pm, and to my surprise, ALL the items are GONE this  morning!! I will send you a photo from Christmas.  Our building is a  joint building, we have all branches, all ranks, Government employees mixed  with Contractors,
all serving a common cause….defeat the  insurgency.   The bad guys are bad…….they just blew up a  local grocery store the other day, right behind our Embassy. Such a shame.
Thank you from the bottom of my heart, it was a huge  morale  booster,
Sincerely,
Reese, Laura A. USA PB4 CIV DFE-A XO
---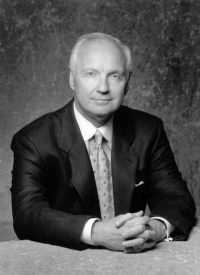 President Bill Sautter has set the bar for commitment. Under his leadership Elliott-Lewis developed a superior service organization that provides ongoing support to major health facilities, universities and public authorities in the Philadelphia and New Jersey areas.
Bill's strength of character and business reputation within the community led to his being named Citizen of the Year by the Southeastern Chapter of the American Red Cross in 2009. Read more about that honor or see the video on what community leaders say about Bill's efforts
A Father Judge High School graduate, he was presented with their "Outstanding Graduate Award." In 1971 Bill graduated from LaSalle University with a degree in accounting and was the 2002 recipient of their Leadership Award. In 2005 he was honored with the City of Hope "Spirit of Life" Award. The Beta Gamma Sigma's International Business Achievement Award was presented to Bill in 2008.
He serves on the Board of Directors of Independence Blue Cross, Philadelphia Industrial Development Corporation, Greater Philadelphia Chamber of Commerce and Mechanical Contractors Association of Eastern Pennsylvania. Bill is Chair of the Board of Trustees of LaSalle University, and Trustee of Archdiocese of Philadelphia Lay Teachers Pension Plan. He is a member of PA Institute of Certified Public Accountants and American Institute of Certified Public Accountants.
Bill is a Committee Member of the G. Fred DiBona, Jr. Memorial Foundation (Fred's Footsteps). This organization provides direct financial support to families in financial crisis due to costs associated with caring for a critically or chronically ill child. Additionally, he assists various churches, schools and organizations struggling financially who are in need of any of the many services that Elliott-Lewis has available and is a generous benefactor to many local organizations.