Building Automation & Control Systems
Elliott-Lewis' building automation & control systems division supports their customers by providing leading edge solutions that combine price with performance to deliver maximum value. When con-sidering an investment in the latest technology to monitor & control building operating systems, one size does not fit all customers. As a top tier systems integrator, our customers know they can depend on us to develop a customized offering tailored to meet their specific goals. Direct access to a host of world class manufacturers allows us to add value by designing a "best of breed" system specifically targeted to meet the customers' needs.
Our Control Division Designs, Installs, and Services:
American Auto-Matrix
Honeywell
Johnson Controls
Tridium
In addition, we can seamlessly integrate the above with existing "legacy" (proprietary) systems manufactured by Trane, Carrier, York, Andover, Barber Colman, Siemens and many others.
Our Controls Systems Feature:
Open, industry standard, communication protocols: BACnet, Modbus & LON
Tridium Niagara Framework® open platform
Graphical User Interfaces for intuitive system navigation & operation
Scalability: small scale deployment fully expandable to large scale deployment
Remote access via the Internet (WEB enabled)
Enterprise Level Supervisory option
Niagara Analytics option for energy optimization & data analysis
Contact us to see how Elliott-Lewis can design a Building Automation System (BAS)that fits your needs and saves you money.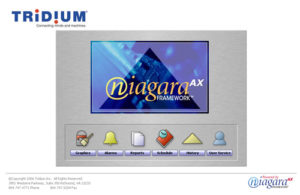 View this live demonstration of the monitoring and reporting available with Tridium Controls here.

Login with the following:
Username: PxDemoUser
Password: Tr1diumD3mo
http://axdemo.tridium.com/login
Please allow some time for this demo to load. The Tridium Controls demo requires the Java™ Runtime Plugin.