Catalyst Controller
The Proven RTU Retrofit Solution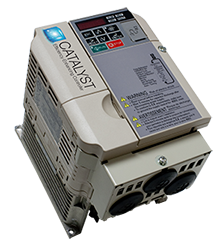 CATALYST achieved an average HVAC energy savings of 57%
Are you dealing with old or new rooftop units (RTU's) that are energy hogs? Are you trying to save energy but don't have the funding to replace each and every RTU? Transformative Wave has come up with an RTU solution that reduces HVAC energy usage by 25 – 40%.
The CATALYST is more than a controller and more than a variable frequency drive (VFD). It is a complete HVAC energy efficiency upgrade that includes numerous components, adds 5-6 new sensors and has been developed as an easy-to-install pre-wired kit. When applied, it radically lowers the energy use and improves the overall performance of constant volume HVAC systems. The CATALYST assures proper ventilation, maximizes the use of outside air for free cooling beyond standard economizer logic, and reduces fan energy use by an average of 69%. Transformative Wave has a four year history of success in the field and a great deal of M&V data to support the product's effectiveness.
More than a "black box," the CATALYST provides live interaction via the eIQ Energy Intelligence Platform, a completely wireless solution that allows real-time monitoring and control over the web with energy savings and historic behavior reporting. Transformative Wave is doing some exciting things with embedded and server-based fault detection, diagnostic, and energy accountability features. The CATALYST can integrate with existing building management systems (BMS) or be applied as the BMS. Transformative Wave and the CATALYST are a Tridium OEM and the eIQ is an open source automation solution.
The U.S. Department of Energy (DOE) has identified RTU retrofit opportunities in commercial buildings as a major point of emphasis. Transformative Wave is currently working with four DOE regional energy labs. They have partnered with us by funding many projects and they have conducted extensive studies of our product in both the private and public sectors. Transformative Wave also enjoys great support from utilities in the form of strong incentives. In the public sector, our clients include the Los Angeles Unified School District, Cal Tech, and Department of Defense locations in San Diego and Hawaii. In the private sector, Transformative Wave has installed projects with numerous major retailers, property management firms, office buildings, call centers, manufacturing facilities, churches, and health care organizations.
---
To start saving energy and money with the Catalyst Controller, please contact Elliott-Lewis at:
2900 Black Lake Place,
Philadelphia, PA 19154
215-698-4400
More contact information including email contacts can also be found on this page.